Sometimes the funniest thing about a story is it's title. Drew Stanton Started the game today for the Lions. This seemed to be a smart idea considering the options they had since Culpepper is not much better. These last couple of games are pretty much just going through the motions and evaluating talents. I would consider these last couple of games to be more like preseason games. This is kind of fitting as today across the NFL there were definitely a lot of second stringers playing in the Quarterback position.
The biggest disappointment of the day for me is that St. Louis won again. With a season like the lions have had I just want as best an opportunity to get better as possible. Last years draft brought to us a lot of key players that we can build our team around and I look forward to adding more talent. Players like Louis Delmas have been a pleasant surprise. He lets us step back and say that we might even be going in the right direction even though we will probably be 2 and 14 this year. I know it is easy to say we have got better when we did not win a game at all last year.
Matthew Stafford definitely has been able to turn a couple of heads. He does have a long way to go but this year he has shown signs of being a star one day. He has some big shoes to grew into though. When you are the first overall pick in the draft you are expected to step right in and make a difference. I do believe we made the right decision in starting him right from the get go. He has been able to learn on his feet while not developing bad habits. Some may not think this was a good decision becuase of the offensive line problems that we have. One thing that happened becuase of this is Stafford getting hurt twice. One was an old injury of his knew cap and the other was his non throwing arm being severely dislocated. Some might think that these injuries would not have happened if we had better players to protect our quarterback. We might never know for sure.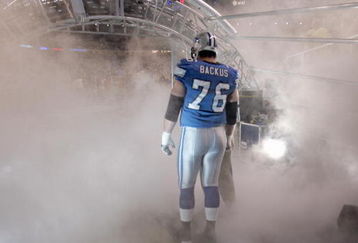 What we do know for sure is that we really need to improve our Offensive line. One of those spots that really needs to improve is the blind side spot. The position that is the most responsible for protecting the quarterback becuase if this position falters then the quarterback may not see it coming. This is the position that broke down both time that Stafford was hurt this year. I have said this all year that Backus needs to be moved from this position. He has lost at least a step and just cannot play that position anymore. I really feel he needs to move to right guard. Besides the Left Tackle sport Right guard is the other spot on the line that could use an upgrade. Either that or Move Manny Ramirez to right guard and move Jeff to Left Guard. I do not know for sure if we go out and get a stud Free Agent to fill the blind spot or if we take care of this in the draft but this I believe is the spot that needs the most attention in the off season.